Many people wanting to get away and experience Portugal's abundant and beautiful beaches, culture, and nightlife choose to stay in Albufeira. Once a small fishing village, Albufeira has blossomed into a major holiday destination that attracts tens of thousands of visitors every year.
It would be easy to spend several weeks in Albufeira exploring everything that this eclectic city and surrounding area has to offer, but not everybody has that much time. Sadly, we certainly didn't.
We only had 2 nights, as it was more of a stop along the way to Faro where we needed to catch our flight to Porto.
Even with 2 days, there is still so much to see and do. If you're taking a short trip to Albufeira, this article is for you 🙂 .
What to Do With a Only a Few Days in Albufeira
Old Town Albufeira
Old Town Albufeira is the historic city center and is easily accessible from the main public beach, which is a unique feature. For most visitors, spending time in Old Town is a must.
Narrow cobblestone streets and beautiful Moorish architecture provide the backdrop for hundreds of shops, restaurants, and bars. It's fun to simply stroll through the winding corridors and take in the sights and sounds. And there will be lots of them. Old Town provides a lot of stimulation for your senses 🙂 .
Albufeira Beaches
Albufeira has two "main" beaches. These are the beaches that front the historic city center. Fisherman's Beach (Praia dos Pescadores) and Tunnel Beach (Praia do Túnel or Praia do Peneco).
The tunnel is really neat and something that you should walk through even if you are not going to the beach! Both beaches are quite nice with golden sand and turquoise water. It is really convenient to be able to head into Old Town to get drinks or food so easily while at the beach.
That being said, if you have a car and are wanting some quality beach time, we recommend that you head out to the surrounding beaches.
Nearby Beaches and the Cathedral Cave
There are many fabulous beaches located within a short driving distance of Albufeira.
Marinha Beach
Marinha was the most incredible beach we've ever seen and our favorite spot in the Algarve!
As you approach the staircase down the beach, before heading down, walk along the top of the cliff until you find the breathtaking views of the beach from above. We literally could have stayed in this very spot all day long.
There are picnic tables nearby, and we wished we would have packed a lunch to sit and eat while enjoying the view.
We rented a kayak from the cafe on Marinha Beach for 20 euros so we could visit the Cathedral Cave (often called Benagil Sea Cave).
If you'd rather take a boat over a kayak, you can easily book that as well. We went with the kayak so that we could be on our own timeline. We wanted to be able to get out and walk around in the cave. The cathedral cave was even more spectacular in person than all of the photos that we saw. Definitely don't miss it!
Marinha and Benagil both offer kayak rentals and boat tours so you could visit from either beach.
Praia Bengal
Praia Benegal is also a great beach, just a bit small. We enjoyed relaxing there and Dan found a little path along the cliffs to hike up and enjoy views from. Parking was a bit tricky though because there was either street parking along a VERY steep hill or parking from a lot and having to walk up and down that same hill.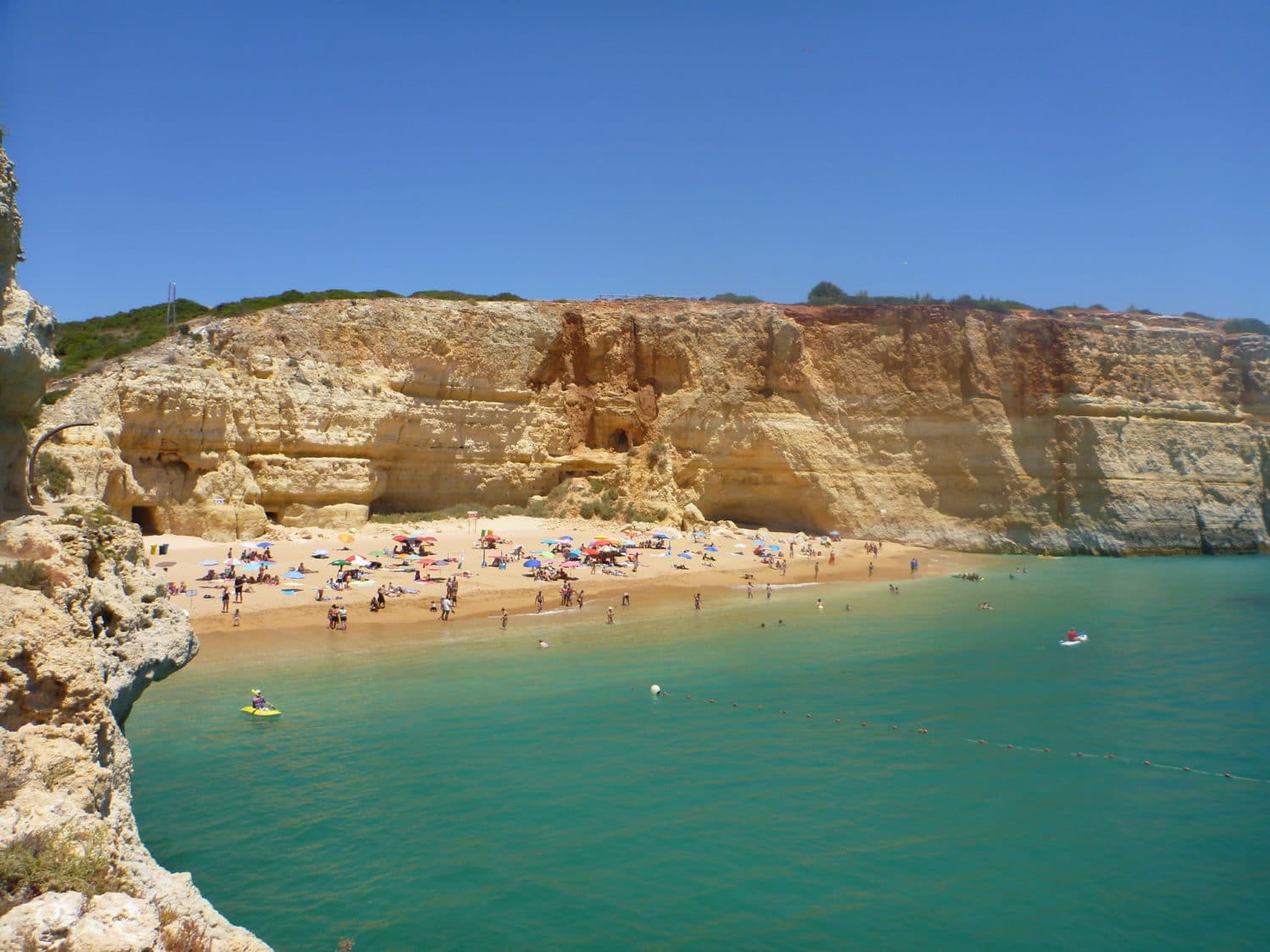 Praia de São Rafael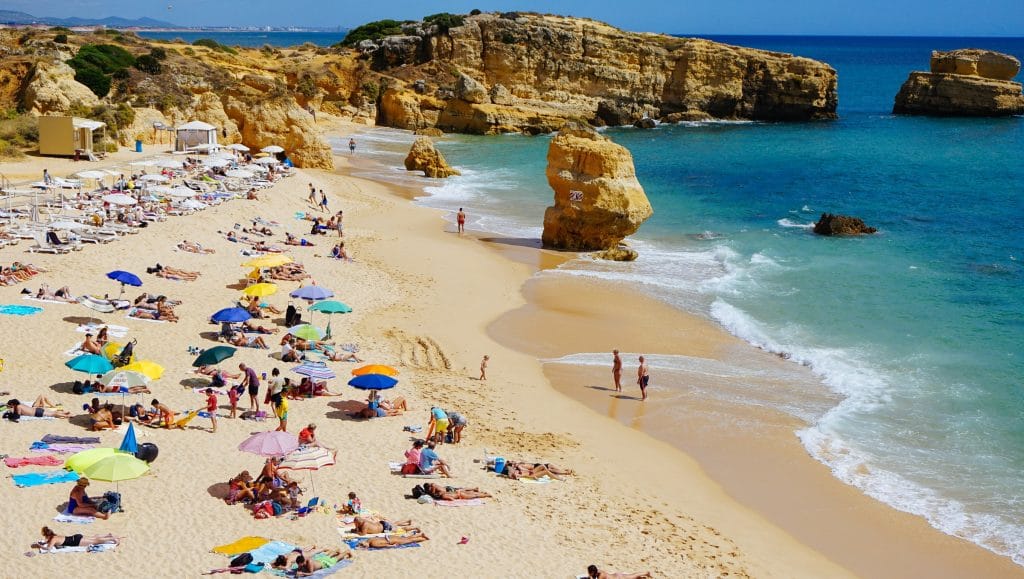 Praia de São Rafael is one of the most popular beaches in the area. Located only a few miles from Old Town, São Rafael is convenient and easy to get to. However, that little bit of distance helps the beach feel a little less "swarmed" with tourists.
Praia de São Rafael has beautiful, soft golden sand and that iconic teal colored water. There are some really cool rock features that are fun to explore as well as help make this beach one of a kind.
The beach also has lots of amenities – showers, toilets, disabled access, and a nice restaurant conveniently plopped right on the beach. Talk about dining with a view!
The Strip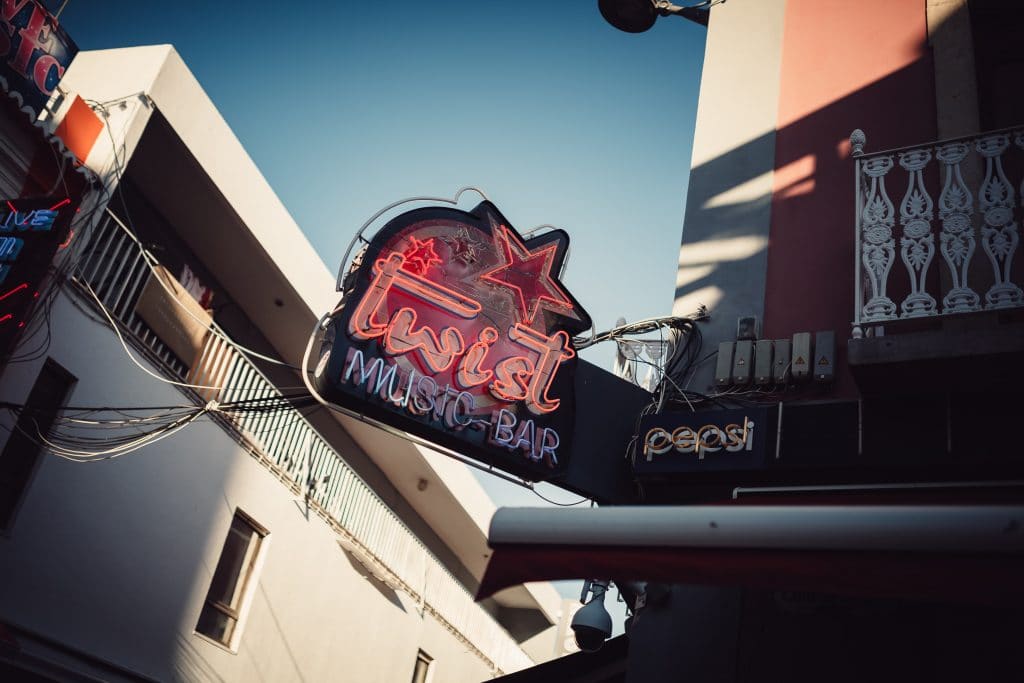 Albufeira is the most popular and developed city in the Algarve region so there is much more to do and see than just historic Old Town and hang at the beach. If you're the type that like a good party every now and again, then Albufeira has just the place for you.
The Strip is specifically designed for "all day drinking, late night partying and recovering on the beach". Nightlife like this can not be found just anywhere, so break out your party pants and have some fun!
Zoomarine Algarve
If you're looking for something more family friendly or more educational than all night partying, check out the country's best oceanographic park, Zoomarine. Zoomarine is a terrific adventure park that combines fun with education.
Visitors can experience live dolphin shows, see tropical birds in the "enchanted forest", get up close and personal with marine life in the aquarium, or see a film in the 4D cinema.
There are also tons of water rides and attractions for those seeking more adventure, including a sandy beach and a wave pool!
Conclusion
There are many wonderful attractions and things to do in bustling Albufeira, especially if you've only got a few days in the area. While you certainly can't do it all, 2-3 days is plenty to get a great feel of the city and experience the top sites. Hopefully, this article helped you with some ideas of what to do on your trip.
You may also like…