Bocas del Toro is a wonderful archipelago off the north-western coast of Panama – an hour's flight from Panama City. The main town, and the capital of the province is Bocas Town. It is located on Isla Colon. This is where you will find plenty of accommodations, bars, restaurants, and shops.
We loved Bocas del Toro because it was bright with color and full of Carribean charm. It was no-frills and real, yet still welcoming. We loved the laid-back attitude and the sense of traveling to a different, simpler time in the world.
It's no wonder that this has been a popular place for backpackers and nomads for many years.
But, Bocas del Toro is more than just a wild party for backpackers.
Top Things to do in Bocas del Toro
Bocas is a great place to experience all that the Caribbean has to offer. Warm, tropical weather and lush biodiversity make for scenic and peaceful days. It's a great place for snorkeling, fishing, kayaking, dolphin watching, scuba diving, and surfing. If you prefer more relaxation, you can do that too at several beautiful beaches. If you're looking to indulge in the backpacker party scene, there is plenty of that, too.
Bocas is such a special place for us that we actually went back a second time because we wanted to recapture the "feeling" that it gave us! We really loved it and we think that you will too. Need to know how to get to Bocas del Toro? Click here.
Go to Red Frog Beach
Red Frog beach is located on Isla Bastimentos so if you are staying in Bocas Town, you will need to take a 10-minute boat ride to get to the right island. From there, walk 10 minutes across the island and you will arrive at the most popular beach in Bocas del Toro, Red Frog Beach.
Red Frog Beach is beautiful and the surrounding forest is lush and filled with wildlife, including monkeys and the namesake little red frogs . Red Frog beach is a terrific for relaxing and basking in the white sands. There are a few accommodations that serve food and drink so you can don't need to worry about thirst or hunger putting a damper on your sunbathing!
Snorkel or Scuba Dive in the Clear Caribbean Water
You should not leave Bocas del Toro without snorkeling or scuba diving. We went snorkeling a couple of different times in Bocas during our stay. Once we rented a kayak and paddled from Isla Colon to Isla Solarte and snorkeled around the coast. The other time we took a cheap trip organized by our hostel that took us to several popular spots around the islands. There are tons of spots to go and many places that will gladly help you get there.
Don't think too much about it, just get out there and enjoy. If you are interested in diving, there are places in Bocas Town that offer dive courses for PADI certifications, such as La Buga.
Go Surfing
Bocas del Toro has become a popular surf destination for all skill levels. We took our surf lessons from La Buga and really enjoyed ourselves. It was an interesting experience because some of the best surfing in Bocas happens out in the water over reef breaks. The coral reef below creates breaks that they say are great for beginners because they are consistent and long.
Although we had a great time, we found it extremely tiring because the water was deep and you had to swim a long way back to the entry point after you were just dumped off your board. So, if you are not a strong swimmer and a beginner, you may want to ask to go to a beach break. Wizard Beach on Isla Bastimentos is supposed to be a good place for beginners as well.
Be Amazed at Starfish Beach
We did not get the chance to do this and we REGRET it. Bocas del Toro is home to Starfish Beach and it is supposed to be one of the most beautiful beaches in Panama. Not to mention, starfish come to the area to feed so there is a great chance that you will be able to see many of these amazing creatures. For more information about the beach and to see how to get to the beach, click here. Remember, be respectful. You should not touch the starfish or pull them out of the water so you can take a selfie.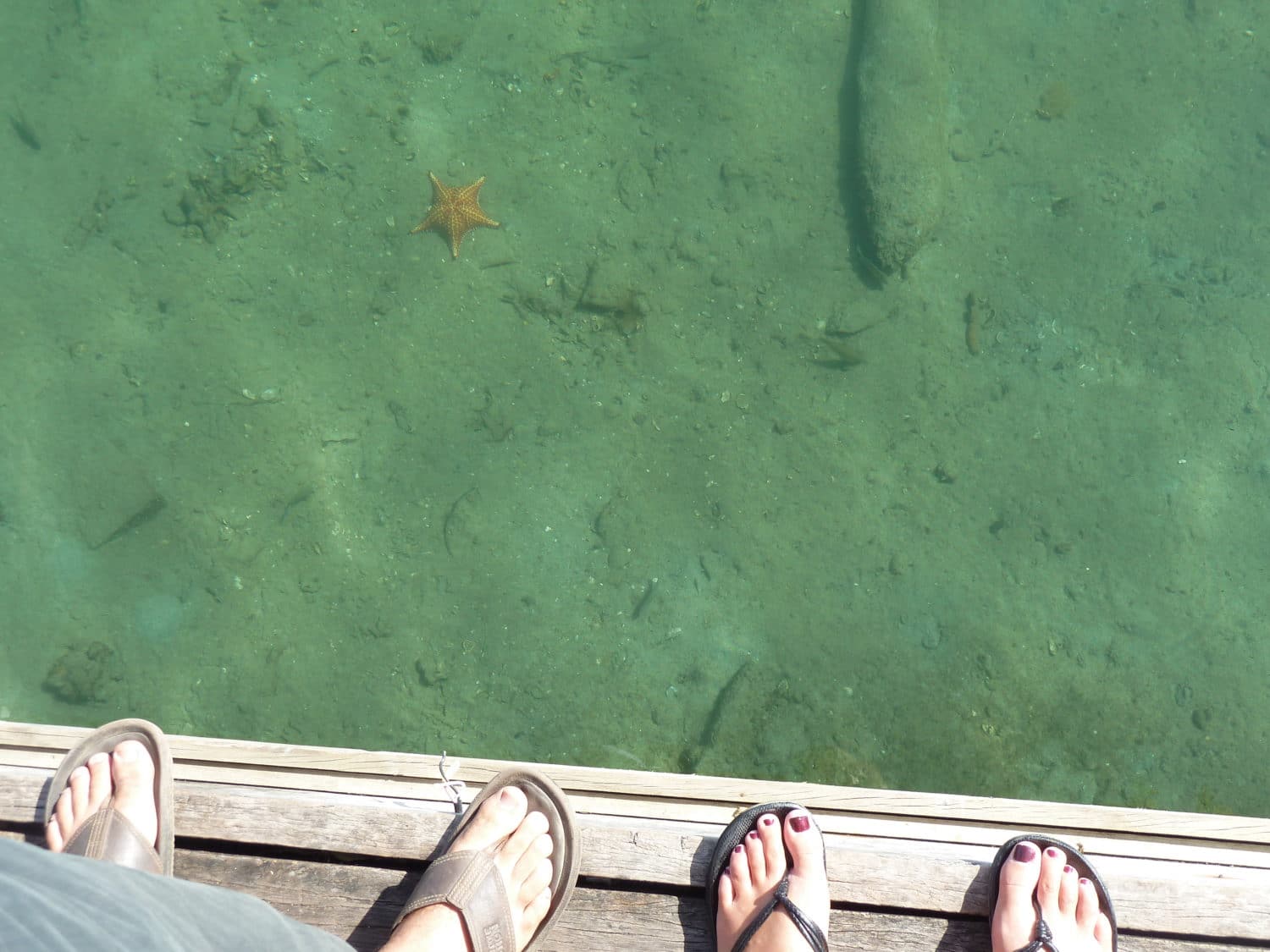 Walk/Bike Around Town
Bocas del Toro has a charm that's difficult to describe. It's something you have to experience for yourself. The natural beauty of the island mixes with the harsh realities of life in a developing nation. There are remarkably beautiful buildings painted in bright, bold Caribbean colors, but there are also places where trash and debris have just piled up. We really enjoyed just walking around and exploring the island, going into different shops, hanging in the park etc. We suggest renting a bike so you can cover more ground. There are several bike rental companies along the main drag in Bocas Town.
Relax and Enjoy the Water
One of the most impressive things about Bocas del Toro is that you can enjoy the waterfront at affordable prices. We stopped in several places along the water and enjoyed a happy hour drink for less than a dollar! We sat outside and marveled at the scenery as we passed the time.
We stayed at a fantastic hotel/hostel that had an incredible dock area where we ate and drank, did yoga, floated in the water and completely relaxed. This hostel was called Casa Verde and we would recommend it to anyone that is traveling on a budget. Either way, there are many places and ways to enjoy the water and soak in the slow paced, Caribbean vibes.
Dine al Fresco at El Ultimo Refugio
El Ultimo Refugio is an awesome waterfront restaurant located on the southern tip of Bocas Town. We celebrated Valentine's Day here and it still stands out as one of our favorite dining experiences. The restaurant has a huge open air seating section that extends out into the ocean. The atmosphere is lively and diners will feel very comfortable while they delight in delicious food made from local ingredients. They say that their peanut butter pie is famous so we had to try it. Take it from us, it was delicious! *Note: the restaurant is closed Saturdays and Sundays so plan accordingly. The get very busy so call ahead and make a reservation.
Conclusion
Bocas del Toro is a fascinating place. While it is mostly known as a stop along for backpackers looking to party, there is plenty of things for folks of all ages and interest. If a no-frills, laid back, tropical destination with beautiful beaches and lots of water activities sounds good to you, give Bocas del Toro a chance.
You Might Also Like…
5 Travel Recommendations to Experience Beautiful Panama City, Panama