*Disclaimer: This post is part of a content series sponsored by Camping World. All opinions are our own.
It's safe to say when we decided to hit the road as full time RVer's in 2017, we were clueless. We didn't know what to expect, we didn't know how to plan a trip, we didn't know what gear we needed or even how to back up a trailer. Additionally, we had no idea which RV to buy or even what to look for when buying an RV to make sure that it was right for us.
It has become obvious to us over the years that we were not alone. I can't tell you how many times we've been asked which type of RV we think is the best, or how many campfire conversations we've shared debating the merit of this RV or that RV. Buying the right RV may be the most challenging aspect of adventuring into the RV lifestyle.
Wisdom Comes With Time and Experience
Since we started RVing in 2017, we've had the pleasure of owning four RVs. All of our RVs have been different types, lengths, etc. and were all purchased for different reasons. As we've transitioned from one to another, we've gotten better at understanding the purchasing process and being able to recognize what matters and what doesn't. Now, with all this experience, we've written many articles and presented at conferences on how to find the right RV to help you find the right RV for you.
But, what we have never done is put them up against each other and compare them. Which features did we like? What was good? What was bad? What things would we have changed given the chance? What do we miss from previous models?
And… ultimately, which RV has been our favorite?
Our Different RVs
RV #1 – 2010 Forest River Rockwood Fifth Wheel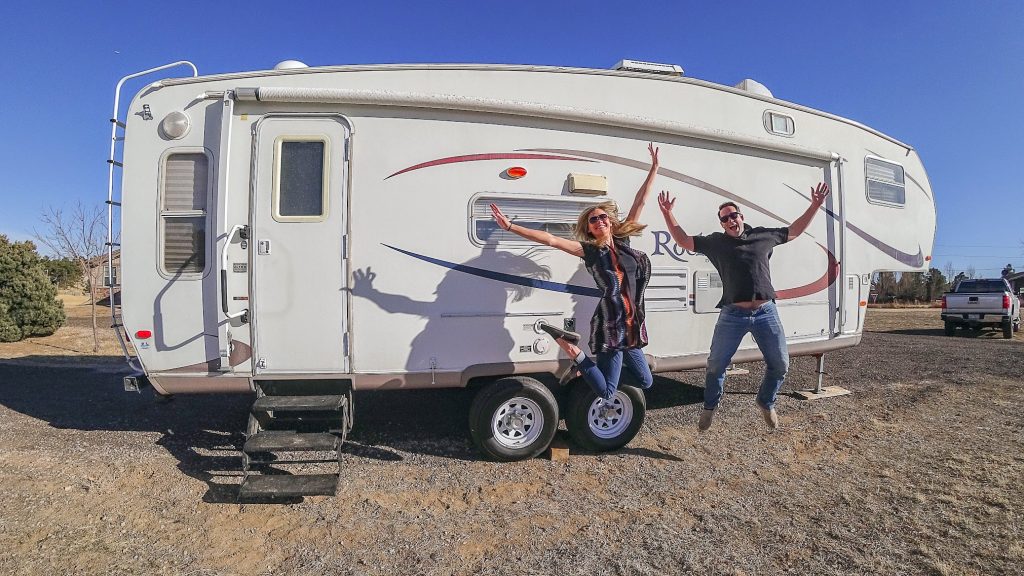 Our very first RV was a Forest River Rockwood fifth wheel. It was 30 feet long and had one slide out on the driver side.
What We Liked
The Price
Since we were brand new to RVing and had no idea whether we'd like the lifestyle, we didn't want to make a large investment. In fact, at the time we purchased this RV, Dan had never even slept in an RV. We purchased this RV for approximately $10,000 dollars in cash. We were happy because we didn't over extend ourselves and since we paid cash, we didn't have a monthly payment. For us this equaled less monthly expenses and more travel adventures!
The Layout & Styling
The Rockwood was ahead of its time. Rather than the dreary browns and the all wood look of many older RVs, the Rockwood featured white cabinets and lighter tones throughout. The net effect was to make the space feel large, open and clean. It is not an overstatement to say that we bought this RV primarily because of the cabinets!
We also really liked the layout. The RV had a nice living room, a good place to work at the dinette, good sized kitchen and a bathroom layout we really liked. You did not have to go into a room to access the sink; it was just in the master bathroom. This allowed access to the sink/mirror and the bathroom at the same time, which made the bathroom more functional.
The "Hominess"
The Rockwood was a bit older and since we didn't spend too much money on it, we felt more confident doing small renovations and improvements. These improvements made a huge difference and our RV quickly felt like a "home". During those first months, that was really important and made being in our space really enjoyable. Fifth wheels generally tend to offer the best living space for full-timers with their size and high ceilings.
What We Didn't Like
Tank Sizes
When we bought the Rockwood, we had no idea the impact the freshwater, blank and grey tanks would have on our day to day life. The Rockwood only had 30 gallon tank capacity for each tank. 30 gallons of water may seem like a lot, but it can go pretty quickly when boondocking or dry camping.
We really enjoy boondocking and try to do it as often as possible to save money. Larger tank sizes allow you to stay out longer without having to dump or refill. The 30 gallon tank size was a constant issue for us and one thing we really didn't like.
Lack of Solar
Today, most new RVs come standard with solar panels to charge the batteries when disconnected from shore power. The Rockwood didn't have any solar capability. Being able to charge your batteries without the need for shore power or to run a generator is a huge benefit, especially when you are boondocking or staying at a campground that doesn't allow generators. We had to always be ensuring that our battery situation was good, and worse, we had to carry gas and a big generator with us at all times. This took up space that we could have used to carry more adventure gear!
Build Quality
The biggest issue that we had with the Rockwood was the build quality. We don't believe the Rockwood was really designed for full-time living, so perhaps we shouldn't have expected better. But, by the time we were ready to sell the rig, multiple things had started to go wrong. We had significant structural issues where the rear end was separating from the rest of the unit, the slide room needed to be repaired, the awning snapped off while we were driving and many other smaller issues.
Travel Days
Travel days with the fifth wheel were tiring. Before we could hit the road, we'd have to pack food and drink for us and the dogs, grab anything we might want with us i.e. laptop, strap down all the furniture in the camper, hitch up, and then cram the dogs in the back of the truck cabin.
Once on the road, due to our length, we were more or less restricted to truck stops and travel plazas for food. Also, if one of us had to use the restroom, we'd have to stop somewhere. And, if we saw something cool on the side of the road like an overlook, most of the time there wasn't enough space for us to stop and explore.
Overall
The Rockwood will always have a special place in our hearts. It was our first RV and it was the RV that allowed us to jump into the full-time RV Lifestyle, which literally changed our lives. Ultimately, however, we just didn't feel confident that she could handle the amount of traveling that we we're doing, so we decided we needed a change.
RV #2 – 2018 Winnebago Navion Class C Motorhome
Our second RV was a brand new, 2018 Winnebago Navion 24D Class C. It had a diesel engine, was 26 feet long, and featured a super slide on the driver side. After spending six months in our first RV, we bought "Wanda" for a few major reasons. The first reason was that we wanted something that was well built and could withstand the abuse of full-time travel, and secondly, we wanted more maneuverability than we had with our fifth wheel.
What We Liked
Build Quality
The first time we stepped into the Navion, we were really impressed with how well she was put together. We noticed immediately that the floor was firm and solid, the cabinets shut smoothly and felt solid, the fixtures were all mounted appropriately, the cushions felt soft and plush. It is hard to point out all the specifics, but you could feel the difference in quality between the Rockwood and the Navion. Being inside the Navion felt like being inside something almost luxurious, which was a welcomed change from the Rockwood.
Drivable Home
After our first six months, we learned something that is really important for all full-time RVers; we learned our travel style. Some folks travel slowly and spend weeks or months in a destination, while others like to travel quickly and see as much as possible in a short period of time. We discovered that we are the kind of RVers that like to travel very quickly and are willing to do lots of driving to get where we want to go.
Our goal was always to see and do as much as possible. It was never about cost savings or living an alternative lifestyle – our motivation was purely travel.
With that in mind, we realized that a drivable RV made a lot of sense for us.
As soon as we switched, our travel days became so much better. Gone were the days of strapping everything down and hitching up the RV. Gone were the days of packing snacks for the road. Gone were the days of loading the dogs up in the truck! We still had to hitch up our tow car, but we could do that in less than a minute!
The Navion gave us so much more flexibility while traveling, which made our travel days so much more enjoyable. It was easy to grab a snack or use the restroom without stopping, allowing us to travel more quickly. Another thing we loved was that we could easily work while traveling since there was access to a table and power outlets.
Size and Maneuverability
The Navion was approximately 26 feet long – making it not too much longer than some of the big pickup trucks on the road. That length allowed us to take our "home" to places we would have never even dared in the fifth wheel. For example, one time, we found street parking outside of a hospital in the middle of Denver while we visited a loved one. We've been able to park in friends and families driveways without causing any issues.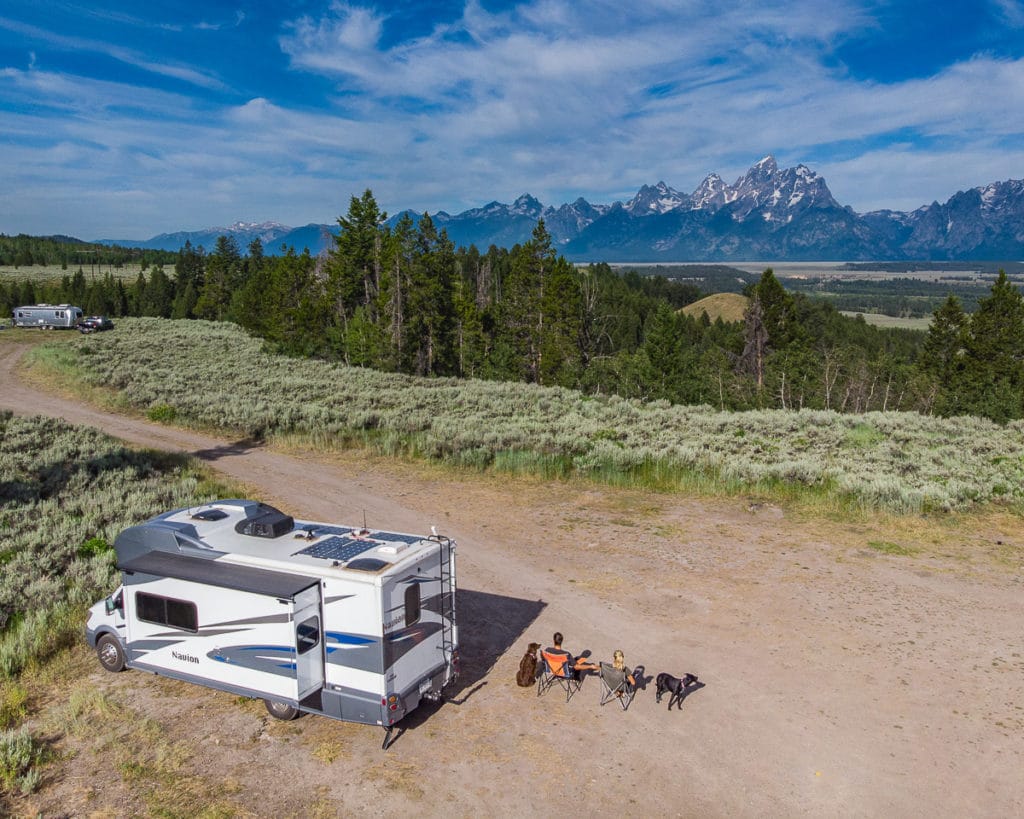 I don't think there was ever a campground we couldn't get into due to the length of the RV. Very rarely would the length prevent us from doing much of anything. Feeling unrestricted and able to take your house most places is a great feeling. The size of the Navion made it so much easier to be spontaneous and that was perfect for us.
Additionally, the Navion was so easy to drive. It drove much like a big van and we were both able to drive. Switching back and forth between drivers made traveling easier and safer.
What We Didn't Like
Limited Storage
Smaller RV's have less room to store things. That is a simple fact. We knew that storage would be an issue ahead of time, but that doesn't mean that we had to like it! The storage inside the coach was pretty good and we had room for everything we needed, but the outside storage was a different story. We love RVing because it makes it so easy to get outside and do things. But, if you don't have space to bring the gear and accessories that make being outside more enjoyable, that is frustrating.
The Navion had limited outdoor storage which meant we were constantly limited in the gear we could carry. There was no space for a propane fire pit, no space for a large camping grill, and no space to put canopies or shade tents. Basically, there was no space for a lot of "luxury" items that can make camping and adventuring even more fun.
Cost to Own
We decided to buy the Navion brand new after going through several issues with our Rockwood. We wanted the warranty and the peace of mind that comes along with that and knowing we were the only people to have used it. Naturally, that benefit comes with a higher price tag. In addition to being new, the Navion is a drivable RV, which is more expensive than towables. Additionally, the Navion is built upon the renowned Mercedes Sprinter chassis with a diesel engine. Those factors led to the Navion being about 10X more expensive than our fifth wheel!
Once we switched into the Navion, we had a monthly payment that we had to worry about. But the cost of ownership extended beyond just the monthly payment. Everything with the Navion was more expensive. Insurance was more, diesel gas cost more and the repair work on the Sprinter Chassis – don't even get us started!
Overall
We enjoyed so many incredible memories in the Navion and it was an amazing RV for us. It was comfortable, reliable and provided a travel experience unlike anything we'd had before.
There were some things that we wished were different, but overall, the good far outweighed the bad for us.
RV #3 – 2020 Thor A.C.E 30.3 Class A Motorhome
After traveling over two years in our Winnebago Navion, we took some time off from the road for family reasons. But, after we adopted our son Myles, we were anxious to get back out there and share our love of adventure with him. However, we knew we needed an RV with a bit more space and comfort. Everyone knows baby's need a lot of "stuff" and we wanted to feel well equipped for having an infant (plus two dogs) on the road. This led us to our third RV, a 2020 Thor A.C.E 30.3 Class A Motorhome.
What We Liked
Tons of Storage
When you imagine living on the road full-time and traveling the country, people tend to picture a motorhome. They are truly built with full-timers in mind and because of their bus-like frame, they offer lots of exterior storage. This was a huge benefit for us because traveling with a baby meant bringing along more gear, such as a stroller, a bouncer, a shade tent, a hiking backpack, etc. etc. etc.
When we owned the Navion, we had to sacrifice some of the adventure gear that we brought. We loved that the Thor motorhome allowed us to bring along things like a stand up paddleboard and other "bonus" items.
The storage was also great inside. We had plenty of closet space for ourselves and baby, and even a good sized pantry. It's also helpful that motorhomes typically have bunks over the cab, which we would use as additional storage space.
The Size
Going from a 25 foot Class C motorhome to a 31 foot Class A felt like a huge upgrade in space. We loved that we had a separate bedroom area and could even use the driver and passenger seat and cab area as extra living space. We were very happy that we switched into a larger RV for the extra space, especially when our son started crawling around!
Each of us had a comfortable space of our own: the dogs loved to lay on the floor of the cab and under the dinette, Dan could set up his office from the passenger seat, Lindsay could work from the dinette or sit comfortably on the couch while playing with our son, and even baby Myles had a cozy changing station above the dresser in the bedroom.
Outdoor Amenities
Before traveling with our son, we didn't spend a lot of time relaxing at the campground. We used to constantly be on-the-go. We'd spend every day after work outdoors adventuring – hiking, biking, and exploring the area. Having a baby certainly slowed us down and we found ourselves enjoying more time just hanging outside the camper. Therefore, having a comfortable outdoor area was critical.
With the added exterior storage, we were able to bring all the necessities for an outdoor space. But what really made it great was that the Thor A.C.E motorhome had both an outdoor kitchen and a TV. We would spend almost every night eating dinner outside then watching TV and having a drink after the baby went to sleep. We loved the added outdoor amenities for that stage of our life and travels, but it wasn't something that would have appealed to us when we first hit the road.
What We Didn't Like
The Layout
It can be really tough to determine whether or not you like the layout of an RV until you've spent a considerable amount of time in it. We initially liked the layout of the Thor A.C.E. 30.3 because it had an open walkway throughout the whole unit.
However, it turns out we felt as though we were living in one big hallway and we would have preferred the space to be broken up a bit. It felt congested, especially around the bathroom and bedroom area, and we'd often bump into each other or the dogs going opposite directions.
The Drive
While it was kind of fun driving the motorhome and feeling like the king (or queen) of the road, it wasn't always enjoyable. We found it much more tiring to drive the Class A than the Class C or our truck when we were towing the fifth wheel.
Since Class A motorhomes sit up quite a bit higher, you tend to get more sway and can feel even the slightest bit of wind. Holding on to the big steering wheel and keeping the rig's large frame in the lanes would get pretty exhausting after a couple hours. With our other RVs it wasn't uncommon for us to drive 5 or more hours in a day, but with this motorhome we could typically only last about 2-3 hours before needing to rest.
Overall
The Thor A.C.E. was a great RV for our travels with a brand new baby. It offered the space and comfort we needed, with added storage, and some luxuries that allowed us to have many enjoyable evenings sitting outside at our campsite.
Thor, one of the biggest RV manufacturers out there, often gets a bad rap for their RV's and the issues they have. We, however, didn't have any problems with our unit. But, we will say that we went from a top-of-the-line Class C motorhome to a more entry level Class A and we could certainly tell the difference in both build and drive quality.
RV #4 – 2020 Keystone Outback Ultra-light 260UML Travel Trailer
Our lives have continually changed with the addition of our sweet boy and we've learned to be much more flexible. Once he got mobile, we knew it was time to slow down a bit and live a more stationary life. However, we will never stop camping and adventuring and it's something we enjoy even more so as a family.
After spending half of Myles's first year of life on the road traveling (and loving every minute of it), we decided it was time to spend more of our time at our house and downsize to a smaller RV that would be better for weekend camping trips close to home throughout the year. Since travel trailers tend to be less expensive and easier to maintain, we knew the Keystone Outback Ultra-light 260UML would be a better fit for this season of life.
What We Like
Great Living Space and Kitchen
The Keystone Outback's layout was a huge selling point for us. We absolutely love the rear kitchen and how much counter space it offers. Plus, we have a big pantry and more kitchen storage than we even need.
Having the kitchen in the back of the unit allows for a very open, spacious living area as well. The Outback also has a slightly smaller dinette than other campers and two recliners instead of a big bulky (and often uncomfortable) couch. Both those features allow for more floor space, which is perfect for Myles to run around and have an area to play with toys.
Large Tank Sizes
It's easy to assume that the lighter the weight of a camper, the smaller the tank sizes. But, that's not the case with our Keystone travel trailer. In fact, this is the only RV that we've had that actually has two grey holding tanks. This gives us a 60 gallon grey water capacity! It also has a 54 gallon freshwater tank and a 30 gallon black water tank.
We were very surprised by these tank sizes and having larger tank sizes means we can dry camp for longer periods of time without having to worry about emptying and filling. We typically prefer to "boondock" as one of the ways we save money while RVing, so large tank sizes are a necessity for us.
SUV Towable
With two dogs and a growing family, having a truck wasn't a practical option as our primary family car. Trucks are also more expensive and it didn't make sense for us to purchase a truck to use for a few camping trips a year. So, we specifically researched SUVs with high towing capabilities.
We were thrilled to find that a Nissan Armada with a towing package can handle up to 9,000lbs. The Keystone Outback Ultra-lite is only about 7,500lbs fully loaded, which made it a perfect option for us. We love having the Nissan for our day to day family car and it has no trouble whatsoever towing the camper! It's a win-win!
What We Don't Like
Lack of Solar
As I mentioned, we prefer to dry camp or "boondock" as often as we can when we're out on our camping adventures. Although we bring along a generator, having some solar is a huge help when it comes to power supply. It can be annoying to run a generator all day and in fact, some campgrounds have quiet hours where you aren't allowed to run your generator.
The standard batteries that come with RVs aren't great and can drain very quickly. Solar can usually help to keep the battery charged and allow you to use the power for much of the day without needing to plug into your generator. So, boondocking has become more challenging for us with the Keystone trailer since it does not even have solar hook ups.
Build Quality
The drawback to having an RV that is lightweight and able to be towed by an SUV is that the overall build quality isn't quite as good as heavier units. In order to make the camper lightweight, the materials used aren't as solid and durable.
We've had a few issues with little things breaking in the trailer, such as shelves and drawers that are made with flimsy material and can't hold much weight. Since we aren't using it quite as much as our past RVs, this hasn't been too big of a concern for us. But, if we spent considerably more time traveling in it, we would anticipate the need to make more frequent repairs.
Overall
We've now taken a handful of camping trips in the Keystone Outback and have even rented it out and made some extra money from it! Besides a few small pesky repairs here and there, it has served us well as occasional campers on the weekends. We wouldn't consider a lightweight travel trailer for full-time use, but have been very happy with the layout, storage, tank sizes and comfort of this cozy little camper!
So, Which RV is Our Favorite?
As you can see, we've put a lot of thought into the pros and cons of each of the RVs we've had over the past five years. We often get asked which type of RV is the best. But, that's one of the hardest questions we get asked about RV life.
The truth is, when it comes to finding the best RV, it greatly depends on how you plan to use it. It's less about finding the best one and more about finding the right fit for you and your needs.
That said, we honestly didn't have a favorite because as our needs and travel style changed, we also changed RVs to fit each of the different seasons in our life. But, we know that's not the answer you want to hear so if we absolutely had to pick a favorite, it would be…
The Winnebago Navion 24D!
Maybe it's because we traveled 30,000+ miles in it and went all over the country, coast to coast, and even up to Canada and down to Mexico. We made a lot of great memories in that RV. Or, maybe it was because the Navion was brand new and had features that many older RVs don't have, such as the tankless water heater and Murphy bed. Whatever the reason, it gave us the greatest amount of freedom for the least amount of effort and stress. And, yet again, it was a great fit for the season of life we were in.
Closing
The most important thing to take away from this article is that everyone's RV ownership experience is different and everyone purchases an RV with different needs in mind. Keeping the five years of experience we shared in mind, you'll want to take the time to really evaluate the RV that is the best fit for YOU.
Pin This Post For Later:
Related Posts: