It's a big and beautiful country we live in and the list of places to go and things to do and see is endless. The United States is full of bucket list experiences and we've found that RVing is the best way to travel and explore our great nation. We hope this post inspires you to add these experiences to your list and hit the open road!
1. Camp at the Most Beautiful Places in America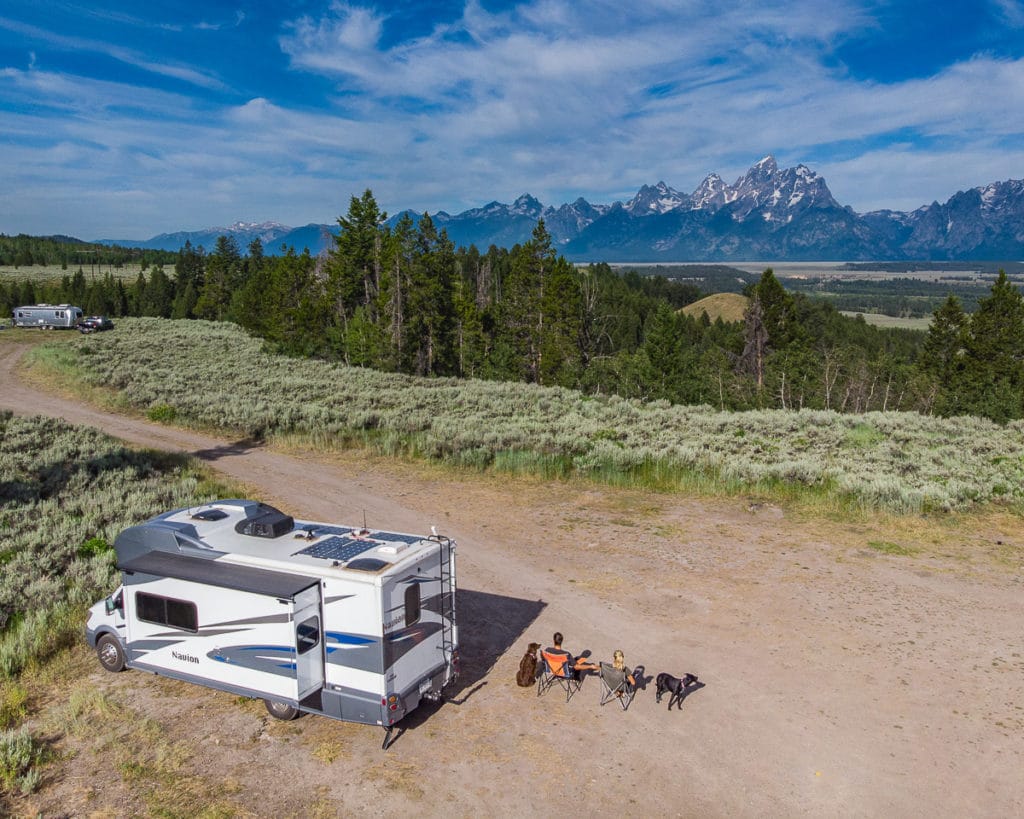 There's a reason this made the number one spot. America's national parks are some of the most treasured pieces of land you'll find. They'll take your breath away and each one is unique and special in its own way! Plus, they are the epitome of the classic American road trip destination and everybody should experience and enjoy them.
In fact, we typically plan our RV travels around the national parks and hope to see every single one in our lifetime. It's fun to collect stamps from each park and keep track of all the different ones you've visited in a National Parks Passport.
There are 63 national parks in our country, plus an additional 129 national monuments. So there is no shortage and they are spread all across the U.S., making it convenient to visit no matter where you live.
Stand in awe at the rim of the Grand Canyon during sunrise.
Drive through the towering majestic trees in Redwood National Park.
Watch Old Faithful erupt at Yellowstone National Park.
Hike a glacier in Glacier National Park.
…whatever appeals to you, the memorable experiences that these parks offer are countless! Visiting the national parks in an RV is a great way to explore the parks and get the most out of your visit. You can often stay right inside the parks in their campgrounds, or typically find a great RV park just outside the parks' entrances.
2. Visit the Big Apple
You've seen New York City in some of the greatest movies and TV shows (where are our fellow Friends fans?) but you have to experience it for yourself. Standing in Times Square and taking in the lights and energy is a feeling like no other. Taking a selfie with Lady Liberty, climbing the Empire State Building, attending a Broadway show…the list of must-see's and do's in NYC goes on and on.
Most people don't think about New York City as a great place to RV to, but it can be an affordable way to visit. Liberty Harbor RV Park is the closest RV park you'll find to the city and is open year round. Imagine having a view of the Statue of Liberty and the Manhattan skyline from your RV site! Additionally, the NY Waterway Ferry leaves right from the park, making it super convenient to get from your front door into all the action.
3. Drive Along Iconic Roads
Every region of our country has beautiful scenic byways and highways but there are a few that stand out as "bucket list drives". Route 66 is by far the most iconic spanning 2,000 miles and even has a popular song about it (who doesn't want to "get your kicks on Route 66?), But there are several other drives worthy of making a special trip for.
The Pacific Coast Highway runs from southern California near Dana Point all the way up the coast to Leggett. But you'll want to plan plenty of time for stops along the way because there are beautiful beaches like Laguna Beach, Long Beach, and Malibu Beach, as well as attractions like the Santa Monica Pier and the Golden Gate Bridge in San Francisco.
Going to the Sun Road is one of our favorite roads we have driven during our RV travels. It takes you through Glacier National Park and we can guarantee you'll be pulling over often to take in the views and snap photos. Another favorite of ours, as Colorado natives, is US 550, which starts in Montrose and takes you all the way into New Mexico. But the stretch between Ouray and Silverton is called the Million Dollar Highway and for good reason – it offers million dollar mountain views (especially in the fall!). It's important to note, however, that these two roads aren't suitable or safe for large RVs.
Enjoying the journey, not just the destination, is what RVing is all about! So taking the scenic route is always a must.
4. Viva Las Vegas!
Even if you aren't a gambler or partier, you'll appreciate the flashy lights and nonstop energy of Las Vegas. It's been referred to as the Entertainment Capital of the World so there is something for everyone and you're sure to have a good time whatever that is. There's world class restaurants, shows, shopping, and more!
We've stayed overnight right on the strip behind Circus Circus, a casino that offers RV hook ups in their parking lot. It was convenient to be close to the action, but you can find much nicer RV parks with amenities that are still very close to Vegas's main attractions.
Las Vegas is a perfect stop to make in your RV because you'll also be able to enjoy the surrounding area as well. Lake Mead is less than an hour drive east. Lake Mead is a reservoir formed by the famous Hoover Dam and surrounded by an outdoor lovers playground with a recreation area that spans 1.5 million acres of mountains, canyons, and valleys, in addition to two large lakes. We loved our stay at Lake Mead RV Village and had incredible views from our site.
Less than an hour north of Las Vegas is Valley of Fire State Park, where you'll feel like you've driven to another planet. The park offers lots of outdoor activities and features 2,000 year old petroglyphs carved into bright red sandstone formations. You can even camp right inside the park.
5. Attend an Event or Festival
Everyone has that one festival that they've always wanted to attend. Maybe it's Mardi Gras or Burning Man, or a music festival like Coachella or Stagecoach.
Attending a festival or major event in your RV is the way to go! Sometimes events have RV parking right on site, but even if not, the road trip to get there is part of the experience, too. You can go the pace you want that allows you to make stops and enjoy other activities and attractions along the way. Plus, you'll have all the comforts of home with you.
We recently attended the Albuquerque Balloon Fiesta and had the most magical time. We parked in one of the RV lots for an entire week and enjoyed waking up every morning to hot air balloons floating right above us! They also offered shuttles so getting inside the event to enjoy the balloon glow, vendors, and various activities was much easier than having to worry about driving and parking.
It doesn't even have to be a major event – college or NFL football games, Nascar races, farmers markets, art and craft festivals, concerts, you name it – it's fun to incorporate events into your RV adventures. A few other events that are on our bucket list, in case you want some ideas are:
Wooden Shoe Tulip Festival
Telluride Blues & Brews
Great American Beer Festival
Bonnaroo
Taste of Chicago
South by Southwest (SXSW)
Lollapalooza
Sundance Film Festival
Boston Seafood Festival
Obviously there are way more festivals and events across the U.S. that we can't even list them all. Find one that sounds fun to you and start making your RV travel plans to get there.
6. Visit the Happiest Place on Earth
Of course if you have kids, this is probably at the top of your bucket list (okay maybe it's more on their bucket list). Every child should experience the fireworks over the Cinderella castle, the iconic Dumbo ride and the "it's a small world" boat ride. And of course get as many photos with the characters as they can!
But Disney is not just for kids. EPCOT is a great theme park for adults and offers a worldly experience where you can taste the cuisine and culture from different parts of the world.
Did you know that Disney caters to RVers as well? Yep, they have a themed camping resort called Disney's Fort Wilderness Resort & Campground. Staying here in your RV means the fun never ends, as they have their own unique amenities and activities on-site. They also offer complimentary bus transportation to the theme parks!
7. Go Wine Tasting
All across the country are wine regions that are perfect destinations for RV trips. In fact, we've visited several. Of course the most well known region is Napa Valley, but there are plenty of other options that may be closer to home for you or that are more affordable.
When making our way to Napa, we actually stumbled upon Paso Robles, another great wine region in California that we actually prefer over Napa. Not only was it more scenic, but a little more laid back with just as great wine.
A few other wine regions we recommend that are great for RVers are:
The Shenandoah Valley, which is along the western border of Virginia and perfect for RVers because it's right by Shenandoah National Park.
Paonia, Colorado (yes, Colorado has wine!) because it's near two of Colorado's most popular mountain towns, Crested Butte and Carbondale, so there's plenty of outdoor adventure all around.
The Columbia Valley, in the southeastern corner of Washington, is one of the largest wine regions in the country. With several lakes in the region, along with the Snake and Columbia Rivers and even nearby Mount

Rainier

, there's plenty of adventuring to do when you aren't sipping wine.
If you're a big wine lover and an RVer, you must join Harvest Hosts. Harvest Hosts is an RV membership that connects you to a network of wineries, farms, museums, breweries, golf courses (pretty much anywhere with space for RVs) who allow RVers to park on their property for free, as long as you support their business. You can't beat parking right at a winery for free when enjoying wine regions!
Sign up for Harvest Hosts here!
8. Chase the Changing Leaves
The vibrant colors of New England in the fall are unbeatable. You have a couple different options of road trip routes but we'd suggest you don't miss Bar Harbor, Maine, which was one of our favorite RV destinations we experienced while full-timing. It's home to Acadia National Park, one of the most beautiful national parks, in our opinion.
Some other great spots in the northeast for leaf peeping are: Stowe, Vermont; The White Mountains, New Hampshire; Up State New York and the Adirondack Mountains; Kent Falls State Park, Connecticut. All of these areas offer plenty of trails for hiking so you can see the colors up close and take lots of photos!
There's truly no better way to do a fall road trip than in an RV. You can go as fast or as slow as you'd like and stay overnight right in nature, where all the best foliage will be!
9. Take Selfies at Roadside Attractions
You may not think this is bucket list worthy, but trust us, once you get started making special stops for silly roadside attractions, you'll want to do it more and more. We've got a whole collection of photos of us with random things we've found along our RV routes and it makes the journey that much more fun.
We have a photo next to a giant pistachio in New Mexico and a miniature Target and Prada store in Texas. There are so many quirky attractions out there – a giant milk bottle, a giant gnome, the World's Largest Ball of Twine! You may have heard of Amarillo Texas's Cadillac Ranch, which is ten Cadillacs that are half-buried, nose-down, in the dirt and serve as a tribute to the evolution of the Cadillac tail fin. You just never know what you'll find out there!
It's also fun to visit geographical points of interest, like the southernmost point in the U.S., which is marked with a large concrete buoy in Key West, Florida. We recently visited the monument that marks the geographical center of North America in Rugby, North Dakota. You can also stand on a metal disc inside a pyramid located west of the border between Arizona and southern California and say you've stood in the "official center of the world". And of course, we all know about the four corners, where you can technically be in four states at once!
Taking the time to detour from your route for these attractions may be some of the most memorable parts of your RV travels. If nothing else, they give you a chance to stretch your legs and leave you with a funny story to tell and a photo to prove it.
10. Relive and Experience Our Nation's History
There's no better way to learn and appreciate our nation's history than to experience it first-hand (or at least imagine and read about it in the exact locations where major historical events happened). What an incredible opportunity to give your children. But I'll be honest, I myself have learned more through our travels than I ever did in school.
There is obviously history all over the country, but some of our favorites are the historic triangle of Jamestown, Yorktown, and Williamsburg, where you can step back in time and experience what colonial times was like. Another obvious spot is Gettysburg, where you can watch Civil War reenactments. Washington D.C. is a must, as our nation's capital, and home to some of the most iconic museums and monuments. Lastly, The Alamo in Texas was another favorite of ours and we enjoyed learning about the Battle of the Alamo while strolling through the complex and then continuing our walk along the famous San Antonio Riverwalk.
These are only a few of the opportunities to learn and experience the rich history of our country. You can find historical landmarks all along your RV travels if you desire, and chances are good you'll be able to easily find a spot to park overnight nearby.
Don't Have an RV to Enjoy These Bucket List Experiences in?
No biggie, you can always rent one if you aren't ready or able to invest in purchasing one. Otherwise, what are you waiting for? Check out your local Camping World and get yourself, what we call, the "ultimate memory maker mobile" and start crossing things off your bucket list!
Save This Post For Later:
Related Posts:
The Happy Camper Bucket List Ep. 1 – America's Historic Triangle